---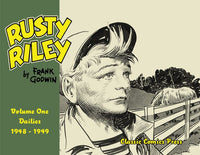 RUSTY RILEY VOLUME ONE
Classic Comics Press is pleased to present the first volume of Frank Godwin's masterful comic strip Rusty Riley.
First appearing on January 26, 1948, the comic strip follows the adventures of orphan Rusty Riley and his faithful dog, Flip. Leaving the orphanage, Rusty is hired by wealthy racehorse owner Mr. Miles in the Bluegrass Region of Kentucky. Soon Rusty is thrust into the world of horse racing with dreams of becoming a jockey and riding the thoroughbred Blaze!
This first volume of Rusty Riley dailies reprints the beginning of the strip – January 26, 1948 to November 29, 1949. There's also an introduction by Howard Chaykin (Black Kiss, American Flagg, American Century), an interview with Frank Godwin's daughter Diane, as well as a number of Frank Godwin illustrations covering the span of his long and productive career, many if full glorious color!
$49.95
plus Shipping and Handling.