---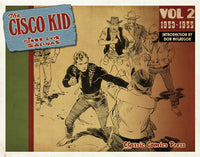 Sale
The Cisco Kid Volume Two
Sale price $12.50 Regular price $25.95
Second Printing!

PLEASE NOTE: This limited second printing was done by someone other than our normal printer and although the quality of this small run is adequate, it is not up to the high standards we have tried to maintain in all our publications. Suffice it to say, going further we will be going back to our original printer.  
Classic Comics Press is pleased to present the second volume in our complete reprinting of the classic American comic Strip – The Cisco Kid, written by Rod Reed and beautifully drawn by the great José Luis Salinas.
Volume Two reprints dailies from February 2, 1953 to March 19, 1955. Also included in this volume is an introduction by Don McGregor (Black Panther, Sabre, Detectives Inc.) and more!
Introduction by Don McGregor
Reprinting dailies from February 2, 1953 to March 19, 1955
232 Pages - $24.95 plus S&H